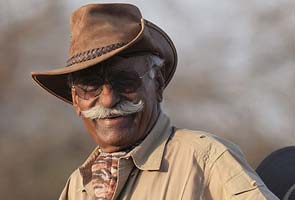 Ranthambore: India's 'Tiger Man' Fateh Singh Rathore was cremated in Ranthambore today. One of the pioneers of ''Project Tiger'' to save the big cats, 73-year old Rathore succumbed to cancer on Tuesday.
As Ranthambore bid a fond farewell to Rathore, friends and conservationists from all corners of the country came in to pay their final respects to the man who worked tirelessly to save tigers for nearly 5 decades.
"
I've lost my mentor, my guide and my best friend but India has lost the greatest champion of the tiger who used his common sense to put Ranthambore on the world map
", said tiger expert Valmik Thapar.
He joined the Indian Forest Services in 1960 and spent many years as Field Director of Ranthambhore where he was part of the first project Tiger team. Widely acknowledged as ''tiger guru'' for his legendary knowledge of the big cat, he had the uncanny ability to predict a tiger's whereabouts.
In 1983, Fateh Singh got the International Valour Award for bravery in conservation. Rathore also received the World Wildlife Fund's Lifetime Achievement Award in Feb in Jaipur this year, where he made his last public appearance.
'Fatehji', as he was fondly called, inspired a whole generation of conservationists. "We have vowed that no matter what obstacles we face, we will move ahead on the path Fateh Singh showed us", said Dharmendra Khandal, a close associate and a scientist with Tiger Watch. Fateh Singh Rathore headed the NGO 'Tiger Watch' in Sawai Madhopur after he retired from the forest department.
"
All I will say is that his loyalty lay with the tiger, and what the tiger represents as a metaphor for Nature
," Bittu Sahgal, Founder of 'Kids for Tigers' said paying homage to Fateh Singh Rathore.
http://www.ndtv.com/article/india/ranthambore-bids-farewell-to-tiger-man-88962?pfrom=home-India
Mr Ranthambore, he thought like a tiger
Just 10 days ago, on February 18, tiger conservationist Belinda Wright was at Sawai Madhopur to meet ailing Fateh Singh Rathore. The frail Rathod couldn't speak, but with gestures expressed the desire to visit Ranthambore — the tiger reserve that he, as Field Director, had nurtured to glory that few tiger reserves in India have enjoyed.
Wright accompanied Rathore and his son Govardhan to the park. And there they were — a pair of male and female tigers, spotted by the group within an hour of entering the park, as if in honour of the man who had done so much for their tribe.
As he ate the laddoos packed for him by his daughter, recalls Wright, "a few treepie birds came and took their share out of his hand... It was so touching."
Rathore nodded with a weak smile on his sinking face, reassured perhaps that all was not lost in the park that he had poured heart and soul into, and had seen fall into decline in his last years. It was to be his last visit to Ranthambhore. On Tuesday, just two months after he was diagnosed with cancer, the 73-year-old Rathore passed away.
Known fondly as Fateh Kaka, he had spent five decades fighting for wildife conservation, and was the inspiration for many such as Valmik Thapar. Just a fortnight ago, he was honoured with the Lifetime Achievement Award by World Wildlife Fund at a well-attended function in Jaipur.
"It's the end of an era. We owe our original tiger conservation success all to him. He put Ranthambore on the world map. He used common sense, not practised training, to bring glory to Ranthambore," says Thapar, calling the loss of his "great friend and mentor" a huge personal loss.
Surprisingly, Rathore was an accidental conservationist. His tiger story began in 1960 when he first saw a big cat shot by the Duke of Edinburgh. "I was not in love with the tiger at the time. We were so happy that we had succeeded in getting the tiger for the VIPs that we celebrated actually," Rathore, who had organised the shoot, recalled in an interview a few years ago.
However, his life changed when he got into a training programme of the Wildlife Institute of India in Dehradun in 1969 and, two years later, became the Wildlife Warden of Ranthambore. Within five years, Rathore had charted patrol roads and implemented a tight vigil, turning Ranthambore into one of India's finest tiger parks.
His most spectacular success was in ensuring relocation of around 20 villages from Ranthambore to create inviolate space for the tiger and other animals. "You may call it old school of conservation, but he believed in having inviolate space for the tiger," says Wright. "However, he didn't have any problem with humans living on the fringes and helping conservation."
During the course of this exercise, he was once severely beaten up, allegedly by locals, and had to be hospitalised for three months. Once out of hospital, he was back at work, more determined than ever.
Rathore became Ranthambore Field Director in 1978 and remained in the post till 1988. Under him, Ranthambore gained reputation on the global map as a park guaranteed to ensure a tiger sighting. A subject matter of several documentaries, he went on to also write many books on tiger behaviour. Then prime minister Rajiv Gandhi had once said to him, "From now on I shall call you Mr Ranthambore".
He was later asked by Rajiv to take up the cause of Sariska. It was here that he fell out with the government, embroiled in a bitter row that dragged on till his death. The then collector allegedly allowed cattle-grazing inside Sariska, forcing Rathore to quit.
Later, some 16 tigers were reported missing from Sariska. A series of problems with the Forest Department followed, virtually making Rathore a persona non-grata with the department. "He was very outspoken and truthful, that's why he was disliked by the government," says Thapar. He went on to set up an NGO, Tiger Watch.
His friends would like to remember Rathore as the thick moustachioed man, sporting dark glasses and a cowboy hat — a colourful personality who loved meeting people. "He loved campfires and music," says Wright. Above all though, she adds, "He thought and felt like a tiger. There was perhaps no one else who understood tiger behaviour like he did. It was extraordinary."
http://www.indianexpress.com/news/mr-ranthambore-he-thought-like-a-tiger/756618/0